The forum's response to the war in Gaza – Dialogue tent for discussions

The discussions touched on a variety of issues: The Israeli-Palestinian conflict, Israeli society, Arabs and Palestinians in Israel and their response to the situation, local initiatives, the female voice and its importance in conflict resolution, issues in education, the conflict observed from a legal and political point of view, Eastern leftism, gender issues and more
April-May 2021. The fighting in Gaza, the rocket fire on towns and the violence between Jews and Arabs in Israel and the Territories must stop. We launched a unique endeavor – The Virtual Peace Square for Dialogue, Reconciliation and Peace.
Every evening, starting from Tuesday, May 18th 2021, and for five weeks, we gathered at a "virtual" Peace Square, on zoom, and on our Facebook page, with bereaved Israeli and Palestinian families and guests from diverse disciplines for a conversation on the Israeli-Palestinian conflict, the polarization in Israeli society, relations between Jews and Arabs in Israel, and more.
To access recordings of the zoom meetings – with Hebrew and Arabic translations – click on this link.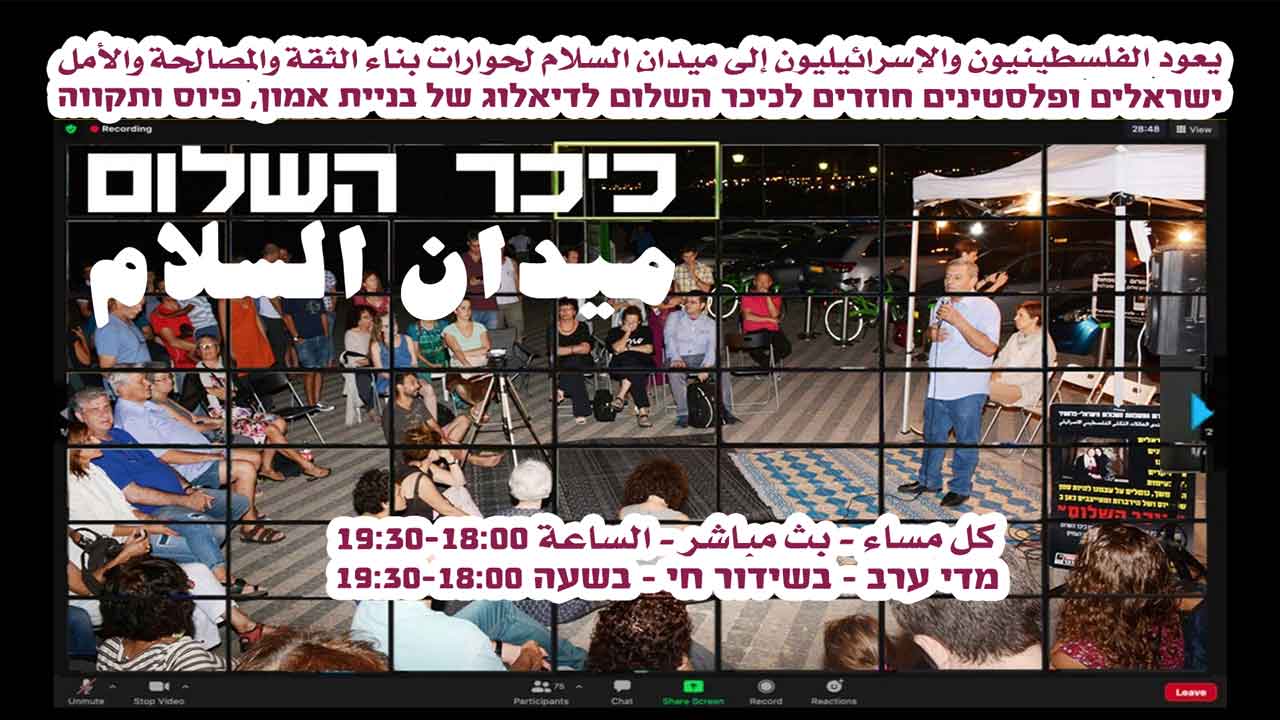 In July 2014, just one day before Israel embarked on operation "Protective Edge" (Zuk Eitan), PCFF members came to the Tel Aviv Cinematheque square, where they raised a Dialogue tent for discussions. PCFF members held a vigil at the tent for 70 days, inviting passersby, supporters and objectors, to join in and partake in the activites, where they also shared their personal stories and their choice of reconciliation rather than revenge. Whenever possible, Palestinian PCFF members also joined the tent, to tell their personal story, share their experiences from the war and listen to the Israeli street.
The "Peace Square" hosted different speakers every night. Some of the guests included: social activist Avi Dabush, from Kibbutz Bror Hail (near Gaza), Prof. Naomi Chazan, Swiss journalist Hod Markovich – who reported from Gaza during the operation, journalist and author Ruvik Rosenthal, journalist Uri Misgav, social activist Shaul Arieli, a JStreet delegation, activists from "Breaking the Silence", parents of students from the "Hand in Hand" Bilingual School, Jaffo Tel Aviv", author Abraham B. Yehoshua, former MK and Minister of Education, Yossi Sarid, researcher Alon Liel, journalist and author Nazir Majali, singer Miri Aloni and others.
The discussion touched on a variety of issues: The Israeli-Palestinian conflict, Israeli society, Arabs and Palestinians in Israel and their response to the situation, local initiatives, the female voice and its importance in conflict resolution, issues in education, the conflict observed from a legal and political point of view, Eastern leftism, gender issues and more.
Social activist Avi Dabush: "This momentous event has been going on for many days. We arrived in Tel Aviv during one of the breaks in the war, passed by the square and stopped here on route to the protest. It was the place for me to be. I first saw a young man shouting in protest at the entrance to the square, when a young instructor, a bereaved son, invited him to join in and to express himself, and simply made room for him. It was amazing. I am grateful to you. You do something for me and for my kids."
A short video on the "Peace Square" activity
The Peace Square received a lot of exposure on Israeli and global television and radio. The media coverage included articles and interviews with PCFF members indoors and outdoors, as well as mentions and discussions in popular TV shows such as: Orly & Guy, Dov Gilhar, the Open Studio on Channel 1, the Oshrat Kotler magazine, the Adam Bolton show on BBC World, Sky News, and on the radio in "All talk" and "This morning" on local radio stations.